of deserved worth and obscure value.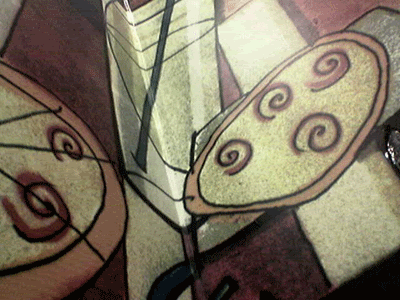 At Shakey's Pizza Hut, Robinson's Place-Sta. Rosa
Few are the times when you feel so alive; when you can almost hear the soft gush of oxygen air up your nostrils down to your lungs feeding you with sweet life. But in a split second, in your utmost shock and disbelief, a stinky and filthy beetle bug sticks through your nose blocking the passage of sweet air then ever so slowly chokes you to a strenuous and agonizing death.
Poof!
Then you wake up from a nightmare. Then you feel more alive than before.
Taena, ewan. 'La 'wenta.
++++
Wee! I got myself a
Kitchie Nadal
CD. And boy, I love it. I love her. Let's start with the CD cover. Astig ang cover! The dominant green in the cover's background is my favorite shade of the green called teal: mostly green with a tinge of blue. The total look and feel is so relaxed of course with Kitchie throwing a hey-I'm-fiery-with-what-I-do stare. Gusto ko rin yung kwintas na suot nya.
Flipping through the folded cover, there are the lyrics. To me, it was uniquely presented. Not your typical verse or poem-like format. At a glance, they look like short inscriptions or something written in most likely Kitchie's handwriting (with all the erasures and arrows pointing to supposed next line and little drawings here and there). Plus for the acoustic string buffs, it also has guitar chords on the sides.
Now for the music, which is of course the reason why I bought it. Now didn't I say I love the album? This lady rocks. I didn't know her back in the Mojofly days so I can't take it off my mind that she's a newbie. And what an amazing newbie she is. Her music and her voice remind me of Sarah Mclachlan's with a rockish condiment. The songs can very well serve you when you're all angst-ridden or even when you're nursing a heartbreak. I read somewhere that she's very well in touch with her spirituality, hence one song that shows that side of her. My personal favorites are Same Ground, Drained, Run and Bulong. There are 10 tracks, all in all.
Feels great when your money goes to something really worth the value. Not to mention that it's a lowcost high-quality buy -- 280 bucks at that.
++++
Been a while since the last time I had a date with me (myself and I). And only then that I realized I miss it. Going out alone and splurging a bit serves right as a great, great treat for a yuppie like me.
Last Saturday, I watched
The Incredibles
. The animation just expelled me away. The forest, the ocean, the hair styles, lupet! I can't help but think of how talented the technical people behind the movie are when a plethora of software engineers and animation artists literally flooded the screen at the end of the movie. The first 30 minutes of the movie was a bit slack, I nearly fell asleep. But towards the middle, it was all wacckky and helluvah fun! I can't quite get fixated on my seat and I'm all smiles at watching like I'm some stupid iced tea model and the white screen being the big camera endlessly shooting for my pictures. Good stress-releaser I must say. Here's to Pixar for more great animated flicks!
75 pesos? Worth it.
++++
The next day, Sunday, I wanted to go out and enjoy the rare chance of having an oncoming workless Monday. But friends are nowhere to be found. So I just resorted to dating myself. I Combo 1ed at Wendy's. The store was almost empty. It was a lazy Sunday afternoon, most people were bumming their time at home I guess. With the company of nothing and no one but cool and hip 88.3 Jam music, calamansi-flavored iced tea and the best fries in the world, I so enjoyed myself. I miss doing that. It was a good chance to ponder on things. A chance I almost lost. Why? Because I did one of the naughtiest things I've ever done, if not THE naughtiest, right there while dining in at Wendy's. At roughly around 4 in the afternoon. Sun-scorching hot outside. Wink@Nerdster.
Good food + cool music + great (and naughty) time = 100 bucks. Money well-spent.
++++
8 days to go before the day my mom stuck her life out to caesarian-ly deliver me to the world.
23 years. Years well-spent? Hay, ewan.